We surveyed hundreds of amputees and found that 9 out of 10 claim their quality of life is limited by discomfort from their conventional prosthetic sockets. The conforming Socket-less Socket™ matches to the ever-changing human body, versus the body having to match to a rigid bucket.
We've eliminated a static socket shape, rigid brims, and encapsulated heat and socks. Our life-changing sockets have real-time adjustability to be as comfortable as a socket should be. You have a choice of what type of socket you wear.
Accessible Coast-to-Coast
Our latest socket technology is available coast-to-coast through our own Martin Bionics Clinics as well as through our quickly expanding Clinical Network of practitioners who are trained and experienced in fitting our life-changing socket technology.
We expect that everyone fit with the Socket-less Socket™ experiences a transformed quality of life through newfound comfort and mobility, and walks out of our clinics saying "This is the most comfortable socket I've ever worn."
Many of our patients travel from across the country and around the world for our life-changing comfort.
We're Expanding Our Clinical Network to Make Comfort Accessible to All Amputees
We love serving the whole person
We have a patient-first approach – We want each and every patient to walk out of our clinics saying 'This is by far the most comfortable socket I've ever worn."
We recognize that while amputees come to our clinic for a more comfortable socket, there is a far reaching quality-of-life impact for them and their families that comes through having more comfort. We therefore take providing comfort seriously.
We set a high standard on customer experience – so that every patient feels loved and served like they are the most important patient we have.
Get A Socket as Comfortable as Your Favorite Pair of Sneakers
We created the most comfortable that exists. Our clinical team is focused on restoring quality of life through comfort. Our life-giving Socket-less Socket™ technology radically changes the quality of life with a prosthesis.
At Martin Bionics, we strive to provide all patients with sockets that are both comfortable and greatly enhance quality of life. We are committed to exploring all available options to find a solution that meets the needs of every patient.
The Socket-less Socket™ Transforms Quality Of Life
Our clinical research team collects data across our entire patient panel to measure the quality of life impacts of our Socket-less Socket™ technology, and the results are transformative.
The Socket-less Socket™ Is
3.3X
More Comfortable Than Conventional Rigid Sockets
77%
Decrease In Skin Issues And Breakdown
94%
Increase In Sitting Comfort, Thanks To Unrestricted Range Of Motion.
42%
Increase In Daily Wear Time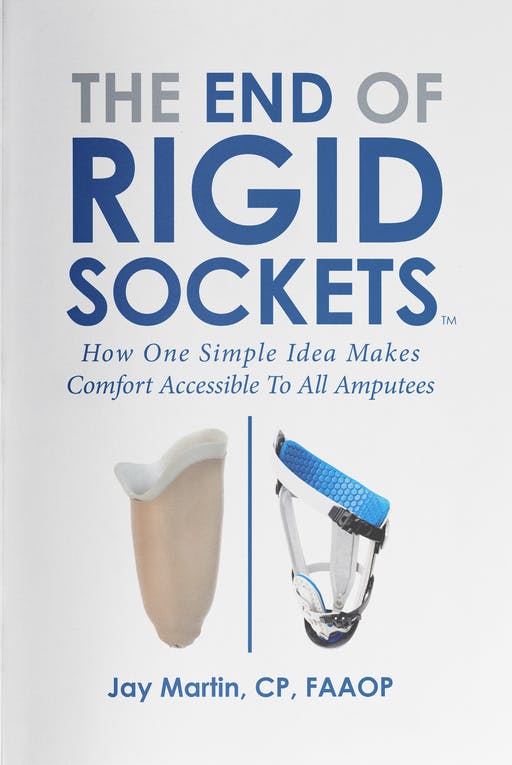 Hear the fascinating story behind the invention of the Socket-less Socket™ and why amputees love it so much, in this new book.